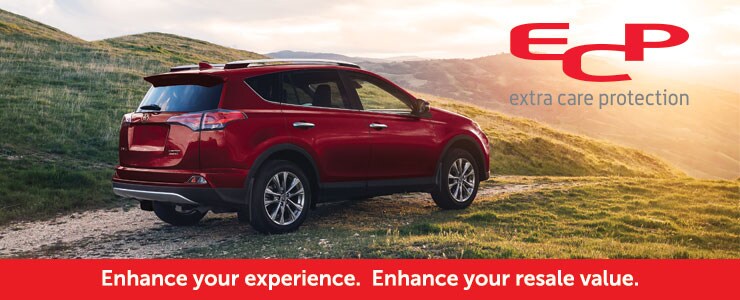 Extra Care Protection is the affordable and cost effective way to guarantee your peace of mind and protect your investment. With a variety of terms, a wide range of kilometre limits to suit your needs and service from over 1500 Toyota dealers across North America, it's a smart choice.

Beyond a Factory Warranty
ECP extends mechanical protection beyond the Toyota factory warranty, providing coverage for up to seven years or 200,000 kilometres. In addition, it offers coverage such as the Oil and Filter/Inspection Program*, towing, emergency road service, rental assistance, trip interruption assistance, tire road hazard protection and travel planning assistance. 
ECP is Transferable
Extra Care Protection enhances the resale value of your Toyota. Simply complete, sign and return the transfer form to ECP. There is no extra charge for the transfer. ECP gives you better value - even when you sell your Toyota.


Coverage Overview
• Mechanical Protection  | Oil and Filter  | Vehicle Rental Assistance  | Tire Road Hazard Protection
• Trip Interruption | Travel Planning Assistance  | Mechanical Breakdown Towing